There are new laws going into effect in Canada regarding anti-spam. CASL (Canada's Anti-Spam Legislation) goes into effect on July 1, 2014. It is different than the CAN-SPAM Act, established in the United States in 2003. The biggest difference between CASL and the CAN-SPAM Act in the US is that Canada's legislation requires consent prior to emailing someone. There will will be a three-year transitional period in which marketers will be permitted to continue sending "CEMs" (electronic messages that encourage participation in commercial activity) to existing customers.
MarketingProfs has posted an interesting infographic regarding this new law in Canada.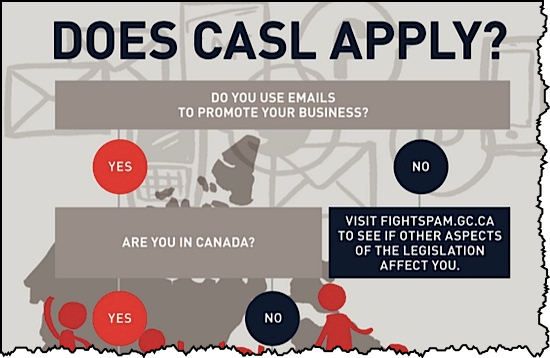 Infographic created by Cakemail
For more information on CASL, click here to go to the official Canadian website.